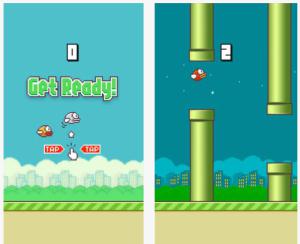 Flappy Bird
es un juego para móviles de
2013
desarrollado en
Hanói
por el desarrollador
vietnamita
Nguyen Hà Đông (
Dong Nguyen
) y publicado por GEARS Studios, un pequeño desarrollador de juegos independiente, también con sede en Vietnam. El juego, publicado el 24 de mayo de 2013, fue eliminado de
App Store
y
Google Play
por su creador el 10 de febrero de 2014.
Flappy Bird has leads the top free iPhone app this week at No. 1, according to data from App Data. And today I would like to share apk file which you can install on your Android phone. This game is very addictive and good for killing time. It would be cool if you add a hard mode and make the bird faster or something like that to get highest score. But all around great game already! Play and flap your wings to fly...
- Tap to flap your wings to fly.
- Try to get 4 medals: Bronze, Silver, Gold (hard), Platinum (very hard)
What's New in Version 1.2:
1) Bug fixes and improve performance.
[How to play]
Tap to flap your wings to fly.
Avoid pipes.
Try to get 4 medals: Bronze, Silver, Gold (hard), Platinum (very hard)

Recent changes:
Version 1.3
1) Support Android 2.2
2) Fix bugs.

Version 1.2
1) Bug fixes and improve performance.
2) Medal blink added.

Version 1.1
1) Fix high score saving.
2) Force game to portrait mode. 

This app has banner advertisements